October 13, 2017 by Felix Jede

The ETiCCS initiative was represented at the EUROGIN Conference 8-11 October 2017 held in Amsterdam by three oral presentations and one poster.
Dr. Omenge from Moi University Teaching and Referral Hospital in Eldoret, Kenya offered a firsthand perspective of the shortcomings of current screening methods in the fight against cervical cancer and sparked a lively discussion about what should be the way forward. Based on the preliminary results of his study where he compared HPV DNA testing with VIA and the biomarker p16/Ki-67 he argued for a shift from VIA to HPV DNA testing in the future in his setting.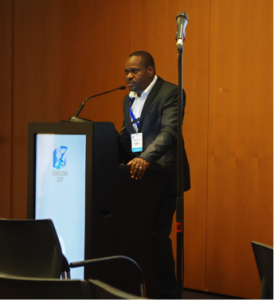 Felix Jede from Heidelberg University presented the newly developed digital data system developed by the ETiCCS team for community-wide cervical cancer screening in remote settings. The app-based system provides a new interactive communication between all stakeholders involved, including data collectors, nurses, gynecologists, pathologists, lab technicians and the study leaders. It is currently used in a rural district of Ethiopia.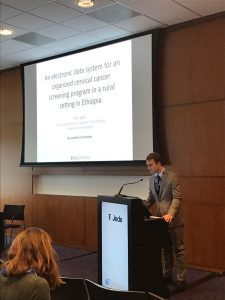 Dr Solomon Berhe Wubneh presented the findings of a clinic-based study estimating the burden of HPV infection and the genotype distribution among women living in rural and periurban settings in the Gondar region of Ethiopia.
Dr Hermann Bussmann presented the vision and aims of the ETiCCS initiative and summarized the latest achievements. He reminded of the need to find solutions to increase access to cervical cancer screening, pointed out how new technologies could be harnessed and emphasized the importance of building alliances with local partners, industry and science.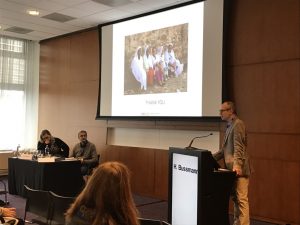 https://www.eticcs.org/wp-content/uploads/2015/10/eticcs_logo_680.png
0
0
Hermann Bussmann
https://www.eticcs.org/wp-content/uploads/2015/10/eticcs_logo_680.png
Hermann Bussmann
2017-10-13 14:56:40
2017-11-27 21:13:33
Eurogin Conference 8th-11th October 2017